Who doesn't want to rank on Google? Everyone is looking for tips and tricks around google ranking factors to up their game.
The Internet consists of a plethora of factors that can just confuse you further and in reality, you don't really need them all!
The good news is that if you follow only the most important google ranking factors that will be stated in this blog, you're good to go.
Learning SEO is the first & foremost step to rank on Google because most of the factors are related to it.
So without further ado, here are the 5 google ranking factors that you should follow without exceptions. 
5 Unskippable Google Ranking Factors of 2021
1. Optimise Content For Users 
You might already know this, but here's why we're stressing about it again. Optimising content for users means keeping it highly intent-driven, conversational, and to the point. Every time you write an article or make a web page, understand the intent of the users and then write.
Avoid writing irrelevant content or information that may be related to your topic but of no use to your reader. 
Skip using jargon because readers are looking for simplified versions of their query. 
Keep all headers conversational. Don't write like a robot. When your headers are easy for readers, the chances of ranking in position 0 are higher. Here's how a position 0 blog appears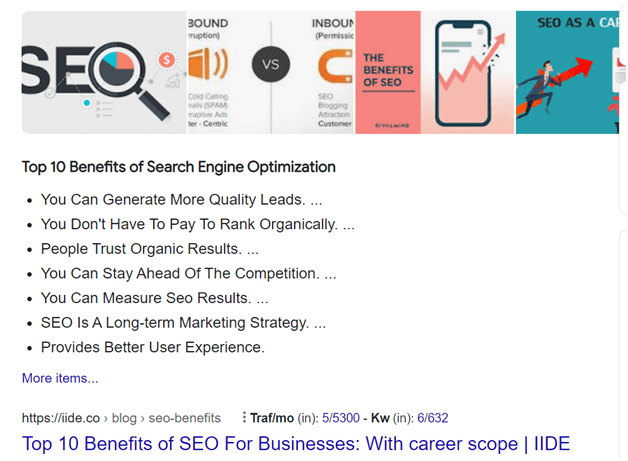 2. Pay Attention to Meta Tags & H1s
Writing your meta tags, ie, meta title and description correctly is very crucial. Because it is one of the most important deciding factors for Google. Include power words, numbers, focus keywords, and your brand name in the Meta Title.
Keep your meta description informative and a quick summary of your article. Even your URL should be crisp and contain your focus keywords.
A quick hack here is to use tools that allow you to view the meta tags as a preview. That's because the limit on meta tags is no longer a character limit. It is now under the pixel limit. Here's how one of the tools helps you write meta tags within the pixel limit

Also, Google has recently updated their algorithm where they have been changing the meta titles and in most of the cases, the titles were picked up from the H1. So try keeping your H1 and meta tags similar.
3. Embed Videos
The aim here is to provide something useful to the readers like youtube videos around the article topic because let's face it, video content is somewhat preferred over written content.
What this will do is, increase the time spent by users on your page, which is a good indication for Google and thus it will push your ranking even further.
But the hack here is that you need to embed the video and not give a link out. If you simply link it out, a user will be navigated to YouTube to watch the video which means they have exited your page.
Embedding a video allows readers to watch it while on the blog.
Also Read: How To Optimize Your Site For Google's Mobile-First Indexing?
4. Add Tables
It has always been easy to read and interpret information when presented in a tabular format. So let's say if you're writing a blog on the list of the best items or if it's going to be a really long blog with lots of information, try adding a summary of it in the form of a table and code it in your blog.
This becomes easy for readers looking for quick answers and every time you give the reader exactly what they're looking for in the least time possible, Google is going to prefer you. And sometimes, these tables get you featured in position 0 as well! Here's how it looks –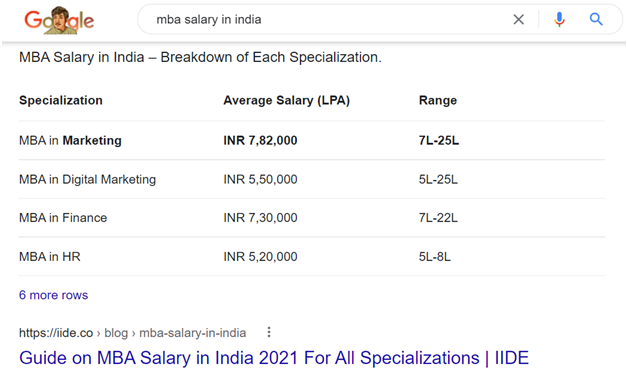 5. Create Backlinks
Creating backlinks is very important. When a third-party website gives a link to your pages, it sends an intimation to Google that your blog is useful. And when many websites send a link to one of your pages, that page will automatically start ranking higher.
So what you can do is, reach out to websites and request a link back to your website by showcasing how it's going to provide value to their readers.
But a few things to note here are –
The website should be relevant to your niche 

The DA/DR of the website should preferably be higher than yours 

The spam score of the website should be 0% to 1%
Another back is to create internal links as well. Each article should send the readers to other relevant articles on your website or product pages. Let the user spend significant time on your website. 
To Summarise
All the best practices mentioned above need to be put into use today so that you can start seeing effective results in the coming time.
Although, if you're bound by a goal or a plan which requires you to boost traffic and clicks instantly, then the best way is to go for search engine marketing.
Bid for the right keywords on Google and appear as an AD which will bring faster results. All this can be done by simply learning Google Ads.
Hope this blog has been an insightful read!