Watching movies is a great pastime. You can enjoy it alone or together with your friends and family. While cinemas are still in business, you can also get the same experience at home. Home theaters are a thing, and here's a list of essential things to build your own.
1. Movie projector
Nothing screams movie time louder than taking out your projector into the room. Turn your living room (or any room, really) into a home cinema with a movie projector. The image projected with this device is generally larger than TV displays.
That makes it convenient when you have a large group of friends coming to watch some good movies together. Instead of shooting the projection to the wall, make sure to use a projection screen for a clearer view.
When choosing a projector, you need to know how large you want the projection to be. This depends on the size of the room. If you're going to use it in different rooms, get a rough number of the average image dimension that fits most rooms.
Projectors come with a chart to help you figure out the right distance between the projector's lens and the screen.
2. High-quality speakers
This differs from watching movies in a cinema and on your laptop or phone. A good sound system can help bring out an intense atmosphere from the movie. Take the same experience from the cinema to your home theater by installing high-quality speakers.
You can choose a sound system that offers surround sound technology. It will encircle the room with sounds from eight different spots, all around you.
Besides getting excellent quality speakers, you might also want to add subwoofers and an AV receiver to your shopping list. A subwoofer functions to create low-pitched audio that ordinary speakers can't produce. This helps the audience to feel the sound better.
Meanwhile, an AV receiver processes and amplifies both sound and video inputs. It is one of the essential parts of a home cinema, so make sure to get one.
3. A decent laptop
If you're using a projector, you need a laptop to play the movie of your choice. A laptop will let you navigate through your digital movie collection at ease. Simply connect the projector to your laptop and press the play button. You can do it yourself or assign one of your friends to be the 'operator' for the movie night.
Any kind of laptop will work fine for this purpose. You can even use your working laptop—it's all fine. However, it's also great if you want to dedicate a special laptop for playing movies. No need to stress over the specifications, a decent mid-range laptop will suffice anyway.
4. Comfy seats
Sitting in comfy seats is a part that contributes to a nice cinema experience. Movies can last for hours, and uncomfortable seats will just make you tired. Take this into account and bring the same comfort of a cinema to your home theater.
The choice really depends on you. If you want to recreate every detail from a cinema, getting home theater seating might be a good idea. However, be aware that it can cost a lot since you won't just buy one seat. If that's out of your budget, you can go for a long comfy couch instead.
5. A wide-screen smart TV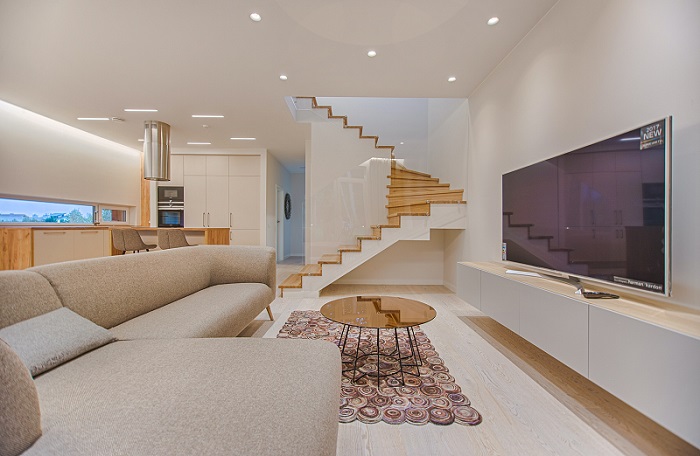 Setting up a projector can be a rigorous task. As an alternative, you might opt for a TV to enjoy the movies. It's a great choice as TVs nowadays include many features in one device.
Smart TVs allow you to do many things like watching regular TV channels, accessing streaming platforms like YouTube and Netflix, even browsing the internet. Having this all-in-one machine is surely convenient.
You can pick a smart TV from a wide range of options. Adjust your choice based on your budget and preference. For the ultimate home theater experience, an 8K smart TV will please your eyes with crystal-clear images. If your budget is limited, there are other options with better prices as well.
6. Movie storage
Storing your movie collection can be done in different ways. For the old-school fellas, get a good quality shelf to store your library of movie CDs and Blu-Rays.
You might want to pick one with glass doors, so you can see the collection easily while keeping it clean. A uniquely designed shelf will also add a nice touch to the interior of your home cinema.
If you're more of a digital person, there are other ways to access movies. You can either keep your movies on an external hard drive or rely on online streaming platforms.
Each of them has different perks and cons. An external HDD with movie files is accessible without an internet connection, yet you need to download the movies one by one.
While you don't need to do so with streaming platforms, a stable internet connection is non-negotiable to watch movies there.
7. Popcorn machine
Popcorn and movies are inseparable from each other. You can enjoy them salty or sweet as a nice companion for your movie night. Although it's mostly overpriced, people still get popcorn in cinemas because it's the most accessible snack there. When you watch a movie at home, you have to deal with popping them yourself.
A popcorn machine can save you some time and energy. While it's possible to make popcorn on a regular pan and lid, buying a popcorn maker just adds some fun to the occasion.
You can get a stovetop popcorn popper for easy use. Yet if you want to go extra, add that full-size classic popcorn stand to your shopping list. It adds a nice vintage touch to your home cinema.
Those are some useful gears you can add to your home cinema. With their support, you will have the exciting atmosphere of a cinema in the comfort of your home. Friends will love coming to your place, but most importantly, you have it all for yourself!