We all binge-watch YouTube, enjoy the content, and want to get it on our smartphones.
Some YouTube videos are available for users to download using the download button and offline viewing.
However, downloading YouTube videos using a third party is against the terms of the company.
Terms of service of YouTube explicitly mention that the users should not download any video. They can only do so if the company itself has given a link or download option.
Therefore, people are not allowed to make copies or download any copyrighted content. If someone is caught doing so, he will face a legal trial or a fine.
However, YouTube has never slammed any of its users for downloading the videos, but it is an illegal activity.
Despite the risks of trails or a fine, if you desire to own the videos on your smartphones, then here are some of the best APK downloader for you.
Best Youtube Video Downloading Android Applications
1. YouTube Go
YouTube Go is a light Android application powered by Google for low-performing smartphones. Users who wish to download YouTube videos legally and for free can use this app.
Unlike other YouTube app which shows the download icon on a few videos and pings to subscribe to YouTube Premium; YouTube Go is the free ticket to have as many YouTube videos as you want.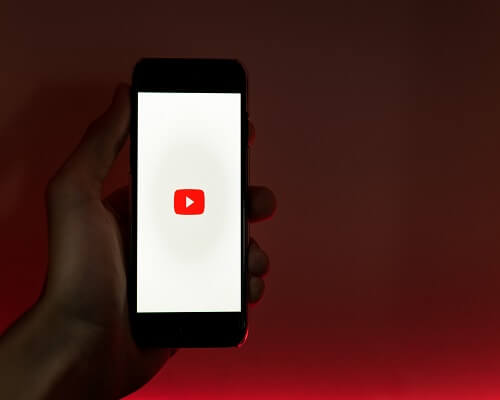 Do you know what the best part is? It is not crippled with any restriction, such as subscribing to the Premium version.
This YouTube content downloader allows you to share high-quality videos without using the internet. Isn't it wicked? The only drawback of this Android application is that it does not allow you to download videos from other social networking websites, such as Facebook, Instagram, etc.
2. Videoder
Videoder is one of the best Android apps for downloading YouTube videos. You can grab content from various websites, such as YouTube, Instagram, Facebook, etc.
Videoder allows you to stream and download videos in several formats, such as MP3, MP4, etc. You can choose any quality you wish to download the content and can share the video from within the application.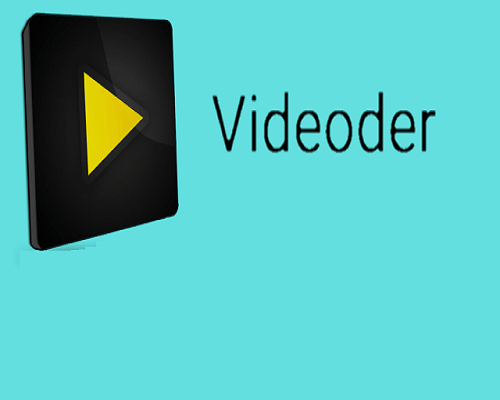 This Android application is customizable and comes with an impressive user interface (UI). This application offers a faster downloading speed and has a buffet for various eye-catching themes, a built-in video player, night mode, etc.
However, Videoder is not available on Google Play Store, but you can install the application from its official website. It does not have any in-app purchases but contains advertisements.
If you wish to get rid of the ads, you can opt for the Videoder Premium plugin, which is available on the Google Play Store.
How to download a youtube video on Videoder using an android smartphone:
Open YouTube on your phone.
Search for the content you wish to own on your phone.
Click on the share button.
Choose the video format.
In the pop-up, edit the file name and downloading location (if you want to).
Hit the download button.
3. TubeMate
TubeMate is another free YouTube video downloading app. It has an elegant user interface (UI) that is very easy to use. TubeMate comes with an in-built browser that allows users to grab the content from their preferred website.
TubeMate also offers you the option to choose the file format and video quality in which you want it. The downloaded videos directly save into your smart phone's memory.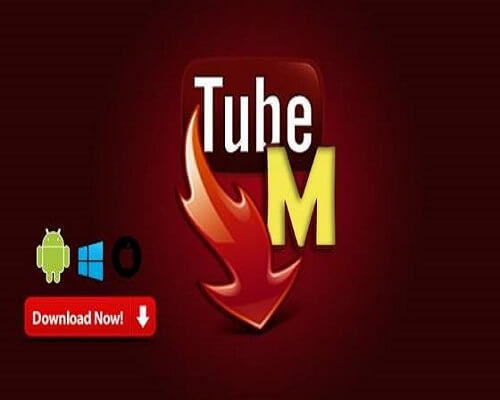 TubeMate allows you to download YouTube videos into different formats, such as MP3. For this, you additionally need to install the MP3 converter application.
All in all, TubeMate is a great video downloading application for Android users, but you have to deal with tons of ads.
How to download YouTube videos using TubeMate downloader:
Open the application and visit the website from which you want to download videos.
Pick your video content from the search result.
Choose the quality in which you want to have the video.
After selecting the resolution and content quality, hit the download button, and voila!
4. Dentex:
Dentex is another free Android YouTube video downloading apps. This application has a straightforward UI (user interface), and the best part is that it contains no ads.
As soon as you select the video, Dentex will take you to the file format tab, where you can choose the format of the video.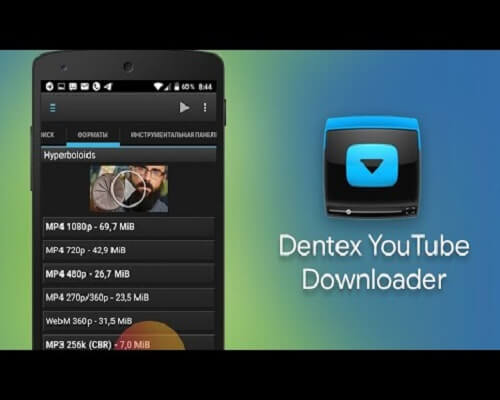 However, Dentex does not provide you with a video preview option for YouTube videos. Once you opt for the file format, you can see the status of the download in your Dashboard.
While you are searching for YouTube videos, you can narrow your search by using filters. You can also save your search results for the future. The application comes with multiple eye-catching themes.
Another perk of Dentex is that it enables you to extract audio from YouTube videos.
5. Snaptube:
Snaptube is another free Android app to download YouTube videos from various websites.
It has a user-friendly UI (user interface) with renowned websites, tending, and popular videos.
It also has categories that are neatly organized in blocks. You can also do YouTube directly using the search bar.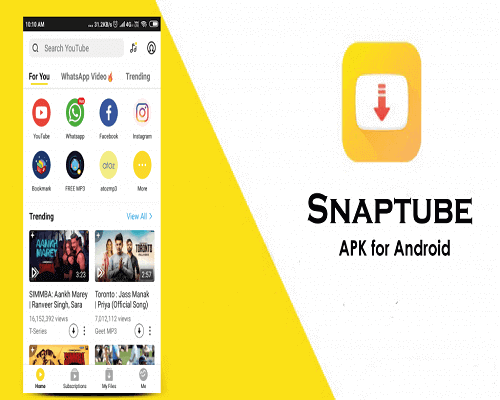 Snaptube is a quick YouTube video downloader. Users can opt for the video quality before downloading them.
It also allows its users to share the downloaded videos on various platforms, such as Twitter, Facebook, Instagram, etc. from the app.
The downloaded content automatically gets saved into the device storage. You can view and organize the downloaded content into the music and video category.
How to download YouTube videos from Snaptube:
Open the application.
Select the YouTube mobile website from the Homepage.
Search for the content in the search bar.
Select the desired content.
Tap on the download icon which is available on the right side of the content.
Opt for the quality in which want to own the video, and your job is done!
Your video will start downloading on your smartphone.
You can install Snaptube from its official website. It is available for free, and it does not have any in-app purchases. However, its only drawback is that it contains ads.
6. InsTube:
InsTube is another free YouTube download app for Android smartphones.
InsTube allows you to download videos from other popular social media platforms, such as Vimeo, Facebook, Instagram, Twitter, etc. It is a reliable Android smartphone app that enables fast download speeds.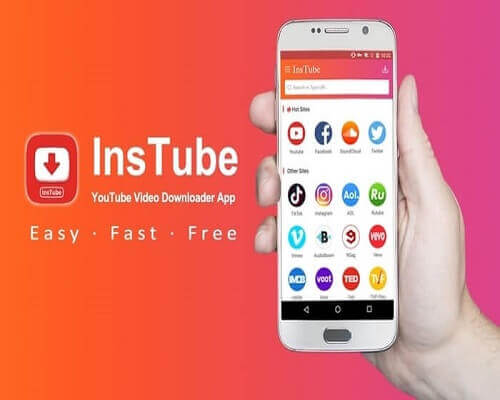 It enables you to choose the quality of YouTube videos before downloading them. Users can share YouTube videos from within the app to InsTube.
Another perk of InsTube is that it is highly customizable. Users can add bookmarks and create a private vault if they wish to hide any video.
How to download YouTube videos to your Android smartphone using InsTube:
Install the app, launch it and visit your desired platform.
Search the video you want to download and tap on the content.
Tap on the download icon.
Choose the quality of the video.
Tap on "fast download", and your video will start to download.
The only drawback of InsTube is that users have to deal with tons of advertisements that keeps popping up, and there is no way one can get rid of those ads.
To Sum It Up
We hope you found the list helpful that our assignment help experts brew for you. Try these Android video downloaders for yourself and let us know in the comments about your experience. If you want to try other Androids app, you can try Telegram, VidMate, NewPipe, YT3 YouTube Downloader too.