Women have embraced diamond tennis bracelets as their go-to daily accessory over the past years as their popularity has increased.
This particular bracelet is worn like a bangle and is made to be thin, sturdy, and flexible. The strongest selling point of a diamond tennis bracelet is its versatility and style.
It can also be inexpensive, depending on the cut, clarity, size, and color of the diamond you choose. 
So, if you're buying a diamond tennis bracelet for the first time, there are key things to remember. For instance, you must ensure that your bracelet is secure by checking the safety latch and clasp. You should also check the links' sturdiness to keep the diamonds in place. 
Moreover, getting the right diamond jeweler is also an important step. So, if you're looking for an online store that sells high-quality diamond tennis bracelets, go to this website: https://www.ritani.com/pages/tennis-bracelets-for-women-and-men 
Even though these bracelets are versatile, you must know how to style them appropriately for a put-together look. Take into account the following styling tips to help you get started. Happy reading! 
Get The Right Fit
Your tennis bracelet should be on your non-dominant hand and loose on your wrist for the right comfort. Use a measuring tape to obtain the right size, wrap it around your wrist, and measure at a relaxed tension.
Alternatively, you can place two fingers between the bracelet and your wrist. The bracelet is properly fitted if it doesn't roll off, and your fingers can slip through it comfortably.
Since a diamond tennis bracelet is thin and delicate, forcing it on will cause it to break. Therefore, you should remember that getting the appropriate fit is crucial since it will impact how well the bracelet will work for you.
Consider All The Metals You're Wearing
Tennis bracelets are beautiful but can also be coupled with other pieces to look even better. Whether you want to wear it with statement necklaces, earrings, or rings, you always need to consider the materials of the accessories you're matching it with.
To begin, make sure the pieces you choose to go with it are made of various metals and textures. Any jewelry made of gold will work well with a diamond tennis bracelet. This is because the gold's sheen will particularly draw attention to the brilliance of diamonds, especially when exposed to light.
Alternatively, consider mixing gold and silver when wearing your diamond tennis bracelet. These metals are elegant and can look good on both men and women. However, avoid pairing it with any jewelry made of plastic, as it'll downgrade the diamond bracelet.
Layer Your Bracelet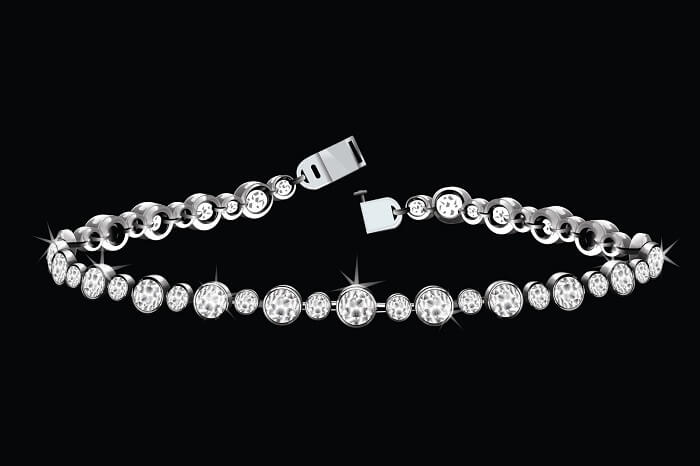 A diamond tennis bracelet can make a statement all on its own but can also elevate your look after layering. If you have the right eye, you can effortlessly layer your bracelet with different accessories without it looking and feeling tacky.
When choosing what to layer your tennis bracelet with, consider getting a piece with a fun shape. However, it shouldn't be made with a material that can easily be scratched with a diamond. Try and match your metals appropriately. 
If you want more metals that shine without overpowering the diamond, consider getting bracelets with metals that include platinum, palladium, or white gold. For a powerful dimension, go for colorful gemstones, including sapphires, emeralds, and rubies. 
Whichever gemstone you choose, it's guaranteed to express your individuality. You can mix and match your bracelets depending on the fit you have. However, it should create a cohesive look that doesn't clash with the overall aesthetic. 
Pair It With A Stylish Watch
If you enjoy accessorizing with a watch, you can easily wear your diamond tennis bracelet alongside it. You just need to ensure that the watch is made of a material that complements the bracelet.
Gold watches are excellent options, especially those made of white or rose gold. Alternatively, you can wear a watch with diamonds if you want additional radiance. However, to prevent your watch from getting scratched, you should wear it on your other wrist. 
Consider pairing the bracelet with a watch with leather straps if you want it to stand out. It's because leather lends a touch of sophistication, enhancing the elegance of the diamond bracelet.
Bottom Line
As seen above, wearing diamond tennis bracelets is ideal if you're going for a fashionable and refined appearance. You can properly style your bracelet with other accessories that will help you get the look you hope to achieve. Consider the tips provided in this article to maximize this lovely accessory's use.