Minecraft house ideas to motivate you, from little wooden cabins to luxury treetop retreats, here are the finest ideas for your modern Minecraft house
Building a Minecraft house might seem easy. But, it can be difficult to execute the idea without a proper design. Moreover, you need to think about where to build the house.
Monsters like skeletons or zombies spawn inside the house and break down the doors. Thus, design the house with walls or pits to defend your Minecraft character.
To make any building in Minecraft, you need to place blocks one after another. Do you want to make a roof on the house? Keep the blocks side-by-side on top of each other.
Most blocks will help create a preliminary Minecraft house, whether it's Dirt or Cobblestone. Additionally, you can use Sand, Wood and Gravel to build them.
However, never use these items when making a roof. Because wood or sand-based blocks make the building susceptible to fire. Instead, the gamers should use stone or mined blocks to create a house with multiple roofs. Ensure to craft the building with some torches to locate the monster in the darkness.
New to this game? Looking for some creative Minecraft house ideas? Here we have curated the best house designs for the players:
1. Wooden Survival House
One Team first shared the idea of designing a wooden survival house. It has a cabin and multiple mirrors and fits a rural village theme perfectly. Moreover, you can add bush plants near the Minecraft house. This design will look more alluring if you put a few wheat grains at the home's entrance.
Besides, wooden houses are unique and easy to gather materials for. You can create more rooms and walls in this Minecraft building. A wooden porch will also go with various interior design.
Thinking about which block type to choose to secure the house from zombies? Use Cobblestone and Stone brick blocks to give it a simple yet eye-catching look.
2. Aquarium House
It is one of the most innovative Minecraft house ideas one can ever think of. The Aquarium house by SheepGG features a two-floor aquarium – filled with small plants. Moreover, you can add more floors to the building to make it more attractive.
The aquarium increases the Minecraft house's aesthetics. Additionally, the gamer added an ascending front-door staircase in the building. You can also keep garden plants on each staircase and decorate the in-game garden. Use black, white and grey colour contrasts to design the Aquarium house.
3. Squid Game House
Do you want to design the Minecraft house with the Squid Game's theme? Then, use the Redstone block to build it. Moreover, it is easier to make this building than a wooden house. All you need to do is make three squares first in the game lobby. Then, use white brick blocks to create the walls.
HALNY, a popular Minecraft player, first made the Squid game house. He added circle, triangle and square symbols to the building like the series' design. Though, you can't add any deadly glass bridges inside the cubic structure. But, you can craft the interior however you want to!
4. House with Swimming Pool
This Minecraft house idea seems intriguing, right? However, building this house might be time-consuming and nerve-wracking. HALNY's honeycomb-shaped residence received massive appreciation from the other players. It features three luxurious compartments and two-tiered fencing.
Additionally, you can decorate the house with a pink or red flower garden. If you keep the wall colour white, add wooden furniture to the space. Or, the Minecraft players can also craft the house's interior with lights or glass windows. A transparent pool on the third floor will suit the design of the building.
5. Modern House
Stop making the same old patterned houses in the game. Instead, try out new designs to grab the viewer's attention in the live stream. Minecraft modern houses have gained popularity over the last few years. But, it takes a lot of material to build this house perfectly. And, these include stone, slabs, and even clay to structure the crib.
Additionally, you need to make glass windows and a balcony in the house. Try to add a landscape garden in front of the building. Look for normal and dark Quartz blocks to cover up the wooden structure. But, you can also choose cobblestone blocks for this purpose.
6. Treehouse
Instead of clearing out the trees in the jungle biome, why don't you build a living space upwards there? 6tenstudio recently shared a video on how to make a modern treehouse. You can follow that to craft the Minecraft house ideas. Add hanging lamps, a roof and contemporary furniture to the treehouse.
Moreover, tree houses can be the perfect place to shoot arrows at Minecraft mobs. It will protect you from the creepers that come out at night. Besides, you can repair the Minecraft shields without getting attacked by enemies. Players can build their new house perched atop a tree. You can include a ladder in the structure, or else you won't be able to get inside the Minecraft build.
7. Underground House
This is the latest house-building trend you will see in Minecraft. Underground houses are ideal for protecting the resources you collect from the game. Moreover, it is not always required to have an enticing house set up to win the Survival mode. You can also defeat the enemies by making a secure underground base.
Besides, you can make different-shaped underground houses in Minecraft. A circle-shaped glass design is the most popular among them. This type of base has a circular structure with glass on the surface. Players can use their choice of block to decorate the house. But, use different block colours for the inside and outside of the build.
8. Modern Villa House
Want to build a spacious villa with a swimming pool? Well, it won't be that difficult. However, it may take 40-45 minutes to complete this Minecraft house design. Getting the base right is essential in the construction of the villa.
Players can add an outdoor kitchen and even a jacuzzi for interior decoration. Moreover, there are different blocks you can choose to make this house. But, Quartz blocks with black outline edges will give it an aesthetic look. You can also build a rustic villa by creating a farm.
9. Beach House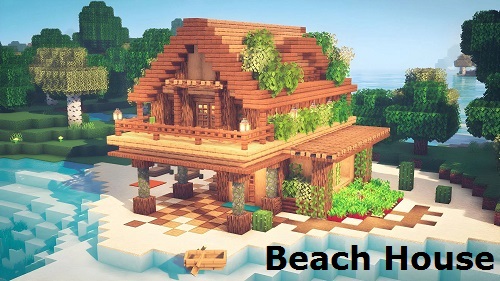 Have you tried this Minecraft house design before? It is one of the most simple designs that you can use in this multiplayer game. Build an exotic beach house if you choose the starting location near the coast. Moreover, there are different designs you can choose to make this Minecraft house.
Players can go with a tropical island beach house on the water. AiMOSTADDICTED, you tried out this unique home design a few years ago. And, the building features simple elements like bedrooms, balconies and glass windows. The Beach house is pretty easy to construct. You only need an ample amount of wood blocks for this Minecraft build.
10. Underwater Modern House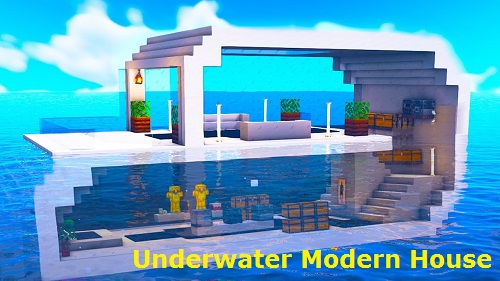 Build a modern house in the middle of the ocean and craft it with glass-paned windows. Additionally, you can use wooden blocks to create a kitchen space; try to include cabinets and bedrooms in the underwater house. First, you need to choose a location near the ocean.
Go to the "Item" section and get quartz to replace Minecraft's polished andesite. Then, start filling it and use white blocks to make the floors. Moreover, you need to add a ceiling using the Quartz block. Add black carpet, tree plants, slabs and furniture to the house's interior.
Do you know what the best part about a Minecraft beach house is? Zombies can't find this place or break inside the house.
11. Oak Survival House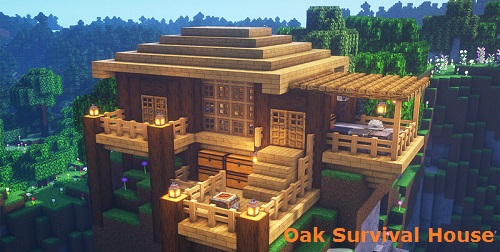 It is one of those creative house designs that don't require too many resources to build. Collect 100+ wooden blanks and other materials that can create this house. Popular gamers like Julious and fWhip often build the Oak Survival starter house.
Moreover, it's easier to decorate this house than in modern houses. Clutter the oak logs in one place to build the pillars for the base and walls. Additionally, players need to collect oak planks and trapdoors to construct this building. Create space using the wood logs, and then dig out 3 blocks to put plants inside them. Connect the house's frame and add lights on each floor.
12. Mediaeval House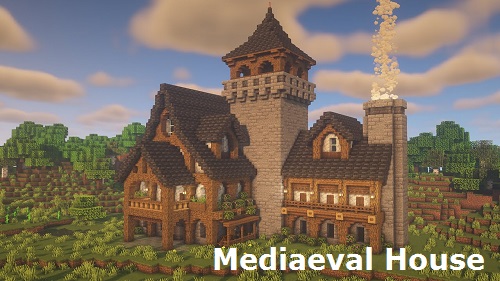 Minecraft's mediaeval house comes in different colours and shapes. Players can make a sturdy Minecraft castle which is built of stone with fireplaces. However, certain factors must be considered before building this Minecraft house. You need to choose a forest or mediaeval village as the game location.
Ensure there are enough blocks to design, create and build the house. Moreover, it will be a great survival place for Minecraft players.
Do you know what you will need to make a Minecraft Mediaeval house? Get oak trunks, glass panes, cracked stone bricks, cobblestone, and fence gates. And, add flower plants and brick slabs to decorate the interior.
13. Suburban House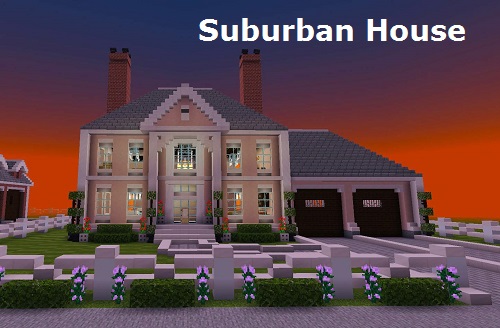 If you are looking for something simple yet classy, this house design will be a perfect choice. It features all the facilities of a suburban home, including a porch. Additionally, players can construct garages and wooden stairs to make it look interesting. But, don't add more than two floors to the suburban house.
Use either stone, concrete or quartz for this Minecraft build. You can also make the rooms bigger to create more space. However, the gamers need to measure the gaps between the rooms to make it look perfect. Glass window panes and quartz slabs will go with this Suburban home design.
14. Japanese House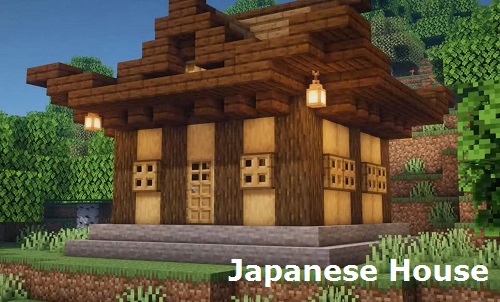 You might have already noticed this Minecraft house design. Vibrant and traditional colours are used to decorate the Japanese house. It can be crafted with cobblestone, acacia logs, wood and even sandstone. Moreover, you can make blossom trees using pink wool.
Collect the materials and finish the construction in less than 30 minutes. Once you build a house, create a garden or add a pond with tropical fish. Moreover, players can make ornate bridges around the Japanese house. Or, include wooden fences to protect the house from Minecraft mobs.
15. Minecraft Farmhouses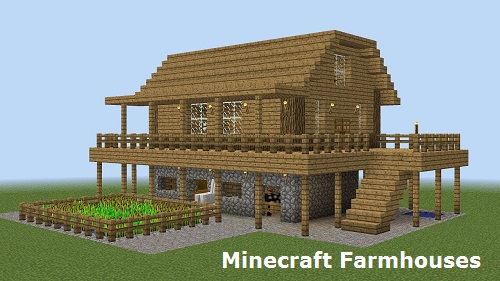 Apart from making villas or modern buildings, consider creating farmhouses. Moreover, you don't need quartz or cobblestone to design this house. Collect oak wood planks, glass panes, ladders, and wood stairs for the construction.
Additionally, you may need oak stairs, spruce wood planks and glass blocks to build this house. First, you need to place the oak wood logs one after another. Then, put the oak stairs in the right place and create a wall with the stone. Use the glass blocks to make the roof. Moreover, you can add fountains in front of the house's entrance.
16. Georgian Minecraft House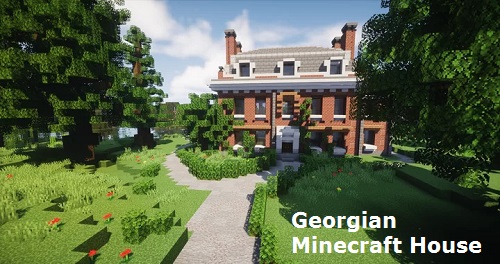 The Georgian house looks similar to a towering mansion. However, this Minecraft house design can be difficult to execute. But, you can do it easily by using the right material. It can be constructed with cobblestone, concrete and quartz. Additionally, the front of the house can be adorned with flowers and gardens.
Craft the Georgian house's window with decorative headers. Add a balcony to this two-storey Minecraft house. Besides, you can put a chimney and a large wooden entrance door. Have you worked on a variety of house-building projects? Then, you shouldn't miss out on this Georgian build in Minecraft.
What are the Other Popular Minecraft House Building Designs?
A Minecraft house requires the right planning and placement. Moreover, choosing the right colour combination is also important when making a building. Most of the Minecraft house ideas have a striking design. But, none of them is as innovative as the "Cube build".
This Minecraft house design consists of five different-coloured cubes. Or, you can also use the same colour contrast in the cubes. And, you will need smooth quartz for the construction and glass panes to design the house. Players need to follow a 7-by-7 block format to build the cubes.
Furthermore, you can also try the underwater mountain house. Lakehouse is another creative design idea you should consider trying. The Mediterranean house will be ideal for survival. So, what are you waiting for? Open the Minecraft game and start building houses!