Your living room is a very important space in your home, and you spend a lot of time there doing many things and, importantly, hosting guests.
The living room must be functional and comfortable simultaneously; hence it deserves the most interior design attention.
Nobody will want to stare at a blank wall all day long. Empty walls can cause depression and boredom, and that is why you need to take the wall décor of your living very vital.
If you have your living room empty, you must fill it with unique artworks, wall hangings, and décor. If you need ideas on how to decorate your living room wall, here are some tips for you.
1. Living Room Wall Arts
When you hang suitable living room wall arts on an empty wall in your living room, it gives it a focal point. The bigger the piece, the more profound the statement. Consider the type, theme, and size of wall art that fits your space.
The use of walls also enables a space to be friendly. A tall painting will perfectly fit if you have a narrow wall near a doorway. You can also use framed artwork to give the room depth and contrast.
The first impression always lasts long. When someone enters a room, the gaze is drawn to the most prominent piece of art on the wall.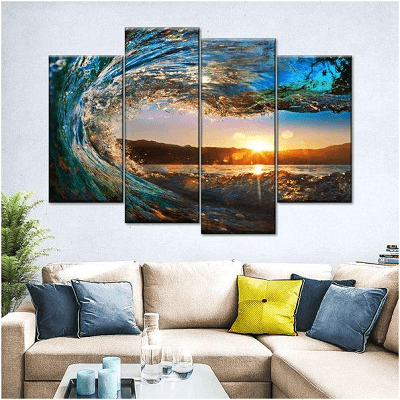 2. Consider a Gallery Wall
If you are not comfortable using cluster wall arts, consider using an organized gallery to hang multiple artworks in perfect alignment.
Be certain to get the measurements right so that each frame can be equally spaced. Whether you choose a larger or small amount of artwork, be sure it is a solution to an empty wall.
Your personality can be defined by the art you put on your wall. So it would help if you used wall arts based on your interest and hobbies.
3. Wallpaper with Paintings
Going bold with a decorative patterned wallpaper layered with paint would make sense. Play with colors, patterns, and materials to create an amazing wall décor in your living room. Impress your visitors and draw their attention to the beautiful wall décor of your living room.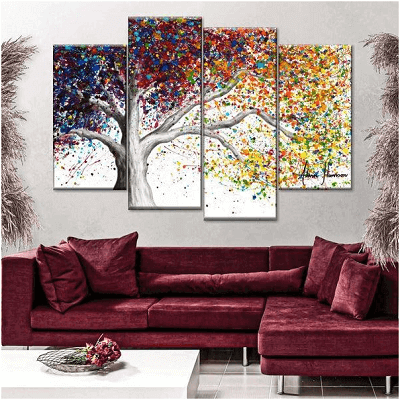 4. Use Iridescent Mirrors
Make use of original objects like these iridescent mirrors. It is a colorful piece, and it brings depth to space. The wooden rim of the mirror, wooden fireplace and accent makes it cohesive. Using a traditional mirror is a way to invite light into the living room and enlarges a small space.
5. Decorate with Small Objects
Build a bookcase on the wall, and you can perfectly display small objects and knickknacks that are aesthetically appealing.
Use decorative boxes, colorful books, sculptures, and organize small objects on the bookcase shelves to improve the décor of the living room. It also fits into a space with art and another décor on the wall.
6. Use Some Greenery
A natural way to level up your living room is using various types of plants to line the bottom of your wall. You can have an art gallery hung on your wall, but it won't be a bad idea to place plants on either side of the couch, and it gets rid of unnecessary space.
7. Add Floor-To-Ceiling Windows
Allow natural light into your living room by using floor-to-ceiling windows. It will not only make your wall to be visually interesting but also brighten your living room. If you have a smaller living room, you should consider using floor-to-ceiling.
8. Hang an Oversize Wall Calendar
A large calendar will go well on the wall, and it will help you keep track of events and add life to your living room. Try bright and bold calendars with sans serif fonts to create a modern look and add a pop of color.
Instead of picking any piece to fill up spaces, pick what appeals to you, and potentially to your guests. These tips will guide you on how to go about it