Cakes are the embodiment of joy on every celebratory occasion!
The process of baking a cake with love and then serving it to the loved ones has an inherent holiday vibe attached to it, that you can't help but wonder about all the times you said beside your mother and grandmother or any other relative with a passion for baking to decorating the cakes with them.
If you are a fan of baking that hesitates about cake decoration then here are the aesthetically pleasing and technically fool-proof cake decoration ideas that you need to try this summer!
Without much ado, let's start icing!
Start With A Simple Naked Cake
A naked cake is one of the simplest decorations you can put on any cake. Whether you choose a single layer or go double tier, all you need is buttercream icing, a scraper, turntable cake decorating creativity and you are all good to go!
Take a thin layer of icing on the cake and top it with fresh flowers for an effortless star for every spread!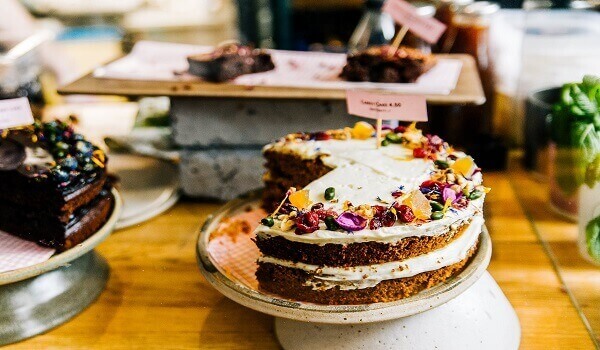 Make A Drippy Design
Another simple yet effective cake decoration is the infamous drip design. Set your cake with a light shade of icing and drip chocolate ganache on top of the cake. You can even go the extra mile with fruits and macarons or writing a message on top of the cake. But that is totally an independent choice!
Bake The Shape
Cake décor could not have been more spartan! You can directly bake the cake in a fancy pan to save time on decoration. A Bundt pan, for instance, is the most sought-after shape for tres leches cakes.
You can literally build a fruit cake in a fun shape or bake the batter in the 'teddy' and 'car' shaped pans to appease the eyes of the little chefs at home!
The old-school-shaped pans are also easily available online. This is one of the techniques you can master baking at home!
Swirl Your Way Around Cakes
The art of piping the perfect roses is not that complicated to master. All you need are a few nozzles, some icing, and a lot of extra time to start piping. You can cover your entire cake in rosettes for a professional finish.
You can also create a shape with cupcakes and then make swirls to join them together in a bond of icing and deliciousness!
Dust Hearts And Flowers On Your Confectionery Creation
Who doesn't like hearts and flowers or coffee cups and a name on their cake?
Well, this decoration technique is a quick fix for the days when the top of the cake has an uneven surface, and your guests are only 15 minutes away! Just level the top by slicing off the mounts with floss to create a flat surface.
Get a stencil of choice and your icing sugar to dust the top of the cake for an excellent finish.
Pro tip: In case you have run out of icing sugar, don't fret. All you can do is grind the regular sugar and get the same powdery texture within two minutes.
Pick A Marble For Effortlessness
The marble effect on cakes has recently gained a lot of momentum since Tasty and other food blogging sites have started their video series on cake decoration hacks. While most of these tricks only work on screen, the genius marble effect tends to work its charm on every batter!
You need to divide your batter in the colors of choice and combine them with a swirling toothpick to unleash the Pablo Picasso beneath your skin. A wiggle here and a swish there, and ta-da! The marble cake is ready for tea!
Opt For Ready-Made Décor
The chocolate box cakes have continued to grow over the last five years!
You can easily make one at home too! Grab a few chocolates of choice with buttercream icing and you can create pretty much any design you like!
From placing a few hazelnut chocolates on top of a dripping cake to make a fence of chocolate bars to guard M&Ms on the top, you can have as much fun as you like with this decoration!
Just make sure your decorations don't outweigh the cake itself!
Create A Berry Delicious Topper
Cakes may not be the healthiest choice, but you can always fill them up with nutrients!
A simple white cream cake can get a fruit extravaganza on its top to become a healthier choice. You can use strawberries, blueberries, kiwi, cherry, mango, peach, apricot, fits, and whatnot to add a little color and a lot of character to your cake!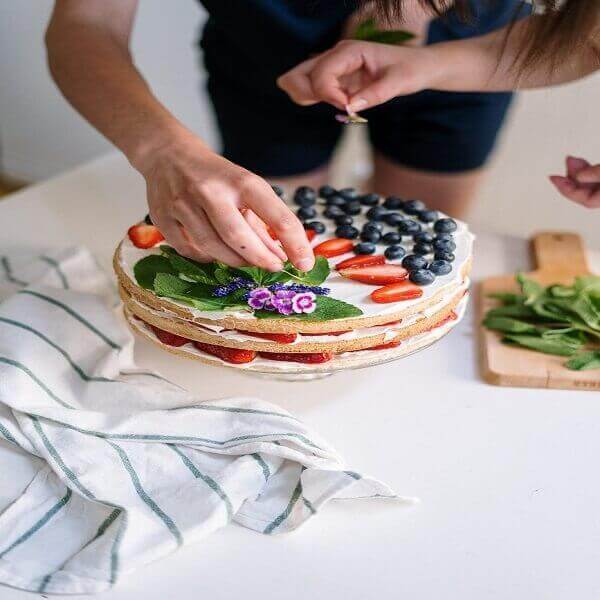 Scrapers Go A Long Way
If your icing looks a little uneven, then a scraper can come for your rescue! Swirl patterns in a method of choice and you can fix almost any surface with your trusty scraped.
You can also make a rainbow-splatter cake with the tool. Divide the icing in colors of your choice and randomly add the dollops of color to the cake's surface. Spread the dollops flat and connect them for a perfect rainbow cake!
A Little Confetti For Birthday
Sprinkles are a fun way to add a touch of color to your cakes. You can use them on the edges, in the middle, or all over the cake and still enjoy adding more!
Since confetti cakes are customary for birthdays, you can easily avoid the store-bought one and bake one with a lot more affection and attention.
Fondant Fairy Tales
Fondant is the choice of cake maestros. It needs exceptional temperatures and the touch of Midas to get the perfect finish. But if you know your way around it, you can create fondant fairy tales on every cake!
Final Thoughts
Cake decoration is a lot of fun regardless of your level of expertise around it. You can create magic on a turntable and cover it in love!
Whether you choose any of the techniques shared here or choose to explore a new avenue of aesthetics for your cake, remember to create as many memories as you possibly can! Because the memories of cake are always the best ones!