Have you ever thought of remodeling your home to space where your teenagers and friends love to hang out?
Flat TV screens laden with lots of movies, the latest video games, unlimited potato chips will create a teen-friendly house.
No! These are the things of the past.
Nowadays, teens want more time outdoors; however, instead of carting them to their friends every time, how about creating a hangout in-house space where they can enjoy me-time.
But how will you do it? Have a look at the tips to remodel your house to make it a place of teen's preference:
Construct A Designated Chat-Area:
Designated space doesn't mean a closed room like a no-parent zone. Instead, it's a space in the home where kids can enjoy their privacy. It merely means a place where they can chit-chat without being monitored.
Refurnish The Old Bedroom:
If it's your teen's bedroom where his friends tend to hang out and spend time, give it a makeover. Banish all baby stuff and incorporate something that makes them feel grown-up. Get rid of curtains, picture books, and other things that make the room look babyish and cute.
Transform it into space where they can feel like a grown-up kid and where they can talk freely without anyone listening.
For boys, incorporate boyish trends like installing a punching bag or a basketball net. However, for girls, you can transform their room into a star-vanity. Consider creating a wallpaper to make it in-line with your child's interests. Bring in some light, and your teen would love it.
Create A Private Outdoor Gaming Zone:
A closed in-house gaming zone will help parents know about the teen's whereabouts and keep them entertained all time. You can install a football net or can build a mini-bowling center at home. Offering your teen an in-house entertainment space will encourage them to become active in sports.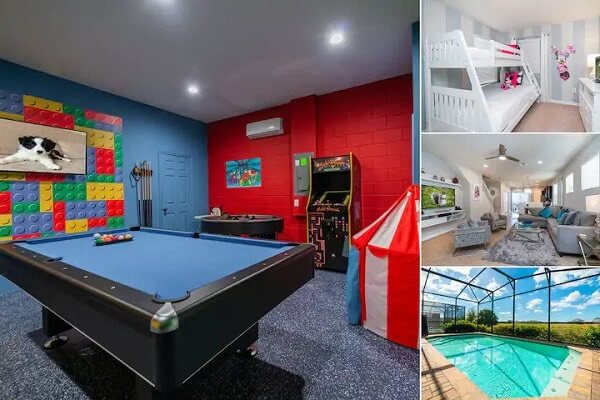 You can also incorporate things like a pool table, table tennis, pinball, air hockey to make your house a magnet for teenagers who are looking for fun ways to hang out on weekends. For sure, they would love relishing things from their private space.
Built A Separate Room To Unleash Their Skills:
Got a budding drumstick player in the family or have a growing fashion fiesta? Let your house be the one where your child can bring out his talent. Design the space according to their skills and let them and their friends rehearse.
To enhance the look, paint the wall artistically, choose the décor that blends with the overall design, have a painting of their idol, and make the room's aesthetic inspiring.
Pro tip:
Make sure to soundproof the room if you don't want to infringe the practice. Use thick rugs, soft seating, dark curtains so that nothing could hamper their goals.
How About a Private Pool:
Teens love houses that have pools. So, how about having the one in your own home? Since they are growing, the backyard lawn space will be of no use for them. You can easily modify that space into a beautiful pool. Moreover, if constructing a pool makes your wallet scream, go for a mini-version. Install a spa to let your teens and their friends spend the leisure time.
Further, if you have more space and some budget, install a seating area and some beautiful lights to let them host night parties. Use the tips mentioned above and make teens spend their free time in the home. Remodel your space according to your teen and get relieved from their late-night wandering.