As any decorator would tell you, curtains make a home, but only when adequately chosen. The correct form of curtains helps set a room's atmosphere filtering light while offering ventilation and protection.
Curtains often contribute by incorporating texture, color, patterns, and a sense of the depth of space to the overall bedroom decor.
You need to carefully pick your bedroom curtains to prevent streetlights, headlights, and other light sources from filtering through your windows effectively.
But when it comes to selecting curtains for a bedroom, there is more versatility to consider than insulation, aesthetics, and privacy.
It is because, due to minor changes in light reception from external sources, a wrong curtain choice will leave you waking up and thus affect the quality of your sleep. You'll gain in-depth knowledge about lighting and how to make curtains work if you get an interior design diploma through online courses.
Here is compiled essential information in this guide to help you choose the right curtains for your bedroom so that they meet your needs.
The perfect material for bedroom curtains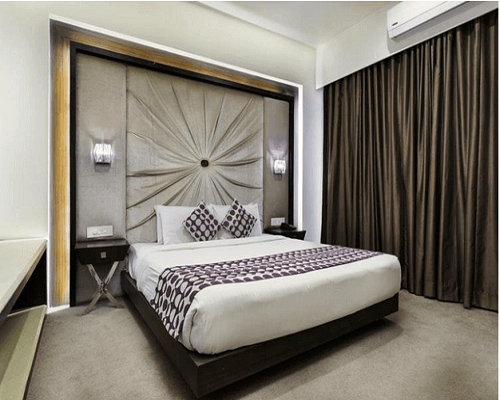 Window experts and home designers suggest using heavy fabrics for bedroom curtains to improve privacy, light-filtering, silk, and insulation. Lined fabric, silk, and velvet are some of the common bedroom curtain fabrics that homeowners suggest.
1.Silk
If you want to create a glamorous or formal look in your bedroom, silk is a good choice. If you choose to opt for silk curtains, make sure your bedroom windows are in a direction that draws too much sunlight.
Pairing them with other window treatments such as roller shades, blinds, or roman shades is an alternative way to prolong the silk curtain's existence.
2.Velvet
Velvet is a cloth that is tufted and woven. Its dense and thick fibers block light more effectively than silk and provide better moisture and cold insulation.
This fabric also helps to block the entrance into the room of contaminants and dust, making it a better choice for individuals who are allergic to certain external elements.
Their soundproofing feature, conducive to a peaceful environment in a bedroom, is another benefit of velvet curtains.
3.Line fabric
This kind of curtain helps regulate the external light level and create a dark space. They are primarily traditional curtains of polyester, cotton, wool, or linen coated on the opposite side with acrylic foam or another covering.
Three models of lined curtains are available in Thermal, Normal, and Blackout. A coated cotton lining typically comes with the standard lined curtains, which avoids sun damage and discolouration.
Choosing the best bedroom curtain colors and patterns
Decide whether you want the curtains to stand out or blend in with the home interior when selecting your bedroom curtains' colors and patterns.
Choose grey, black, blue, bright red, orange, yellow, purple, or green for a bold statement. Pick neutrals if you want a soft look that blends in with the rest of the room, but make sure you get the right kind of fabric to regulate light.
Patterned curtains fit well when other elements in your bedroom, such as furniture, bedding, rugs, wall art, and upholstery, do not have too many designs.
You have a wide range to choose from when you have solid colored home decor elements, starting from tiny dots, geometric patterns, checkered, elegant stripes, and quirky graphic prints. However, if you have other patterned features in your room, opt for solid colored curtains for better coordination.
The perfect length for bedroom curtains
Much of this will depend on the scale of your bedroom window and the type of decoration. Three styles of curtain lengths are available: floor, puddle, and apron.
For windows that you open regularly, apron curtain lengths are the most appropriate. It makes it easy to open the curtain and shut it with minimal effort.
Curtains of apron length usually measure 84 inches and accumulate less dust and dirt from the floor. It makes them perfect for a bedroom layout where the window is directly above the bed or any other furniture.
The floor-length is around 96 inches. This type of length allows your curtain rod to hang higher than your window. Doing this draws the eye up to give a taller look to your ceiling.
It's time for someone who has no curtains to buy some, and It's time for someone who had old curtains to buy new ones. And there's no better place to get them than in Yorkshire Fabric Shop. This curtain shop online has a wide range of home-essentials to meet your interior design needs.
Final Thoughts
When choosing the perfect curtain for your bedroom, you must feel comfortable, and it must be pleasing to your eyes. Do you want it to serve as a focal point or just a backdrop? You can surely find the perfect curtain for your sleeping space once you consider this and the rest of the other tips in this article in motion!